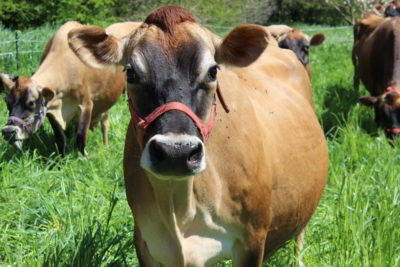 Tom and Darlene Silliman never set out to be farmers, but like many of the vendors at Enumclaw Plateau Farmers' Market, they are deeply concerned about knowing where their food comes from. When they brought home their baby to their 13-acre farm in Enumclaw, they were determined to control what they were eating. So what began as an adventure to provide wholesome, pesticide-free, organically grown food and milk to their family became a lifestyle.
Fast forward 18 years where baby girl is at college and Meadowwood Farms is now a WSDA-licensed raw milk dairy with a farm store in Enumclaw. Meadowwood sells raw jersey milk and cream, eggs and meat from their pasture-raised livestock which have only been fed certified organic, non-GMO feed. The farm store has freezers and refrigerators stocked with product, as well as all the necessary elements for those customers venturing into cheese-making.
Because raw milk must meet or exceed State standards for pasteurized milk, Meadowwood does not offer farm tours. It's important to maintain the biosecurity of their operation and their livelihood, so they can ensure safe products for customers. However, anyone is welcome to shop in their self-serve farm store located on the farm. It is open from 9:00am to 9:00pm daily. And this summer, stop by Enumclaw Plateau Farmers' Market on Thursdays to pick up Meadowwood's freshest products.