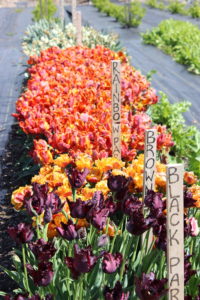 Amy and Steve Brown of Laughing Goat Flower Farm have a gift for creating beautiful things. What started as an idea to have a goat farm and create cheese (aka laughing goat), has morphed into a full-scale farm with multiple purposes representing the varied passions and interests of this cultured and stylish pair.
Their vision? Fresh and gorgeous flowers, organically grown produce, unique farm experiences and education, all located in a beautiful space like none other in Enumclaw. One this is for sure, the Browns are creating something stunning on their ten acres.
At the heart of their work is a passion to know what is in the food they grow, but equally as important, to do so in a way that insists on responsible permaculture, sustainability and healthy soil. Their exacting standards require certified organic seeds and soil and they spare no length to ensure their farm is a place be inspired, renewed and motivated to incorporate more plants into our lives. From their new formal garden with heirloom varieties dating back centuries, to their dahlia and peony fields, there is no lack of inspiration at Laughing Goat Flower Farm.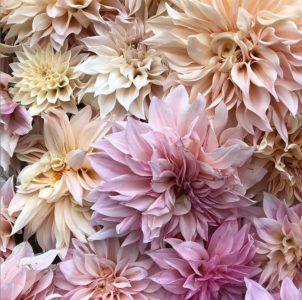 Blame it on their travel globally, but Amy and Steve are taking cues from the most beautiful gardens in the United States, France and England to create a sampling of the serenity and beauty that gardens can provide in our lives – emotionally, mentally, physically. Their botanical magic is alive in Enumclaw and we are excited to have Laughing Goat Flower Farm as a vendor at Enumclaw Plateau Farmers' Market this summer. They will be selling garlic, vegetables, fresh flowers, plants and seasonal produce from their farm. Visit them at the market on Thursdays or check out their website for farm events, workshops and other special opportunities to be announced soon.